A Saber-class starship such as the USS da Vinci (NCC-81623) normally has a crew complement of approximately 42 officers.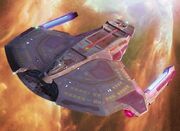 Crew Manifest
Edit
Team Leader:
Deputy Team Leader:
Computer Specialist:
Cultural Specialist:
Language & Cryptography Specialist:
Structural Systems Specialist:
Tactical Systems Specialist:
Bridge Crew
Edit
Engineering
Edit
External Links
Edit
Ad blocker interference detected!
Wikia is a free-to-use site that makes money from advertising. We have a modified experience for viewers using ad blockers

Wikia is not accessible if you've made further modifications. Remove the custom ad blocker rule(s) and the page will load as expected.