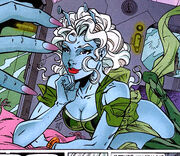 Undieela Noor was a renowned Andorian author of holographic romance novels, including the best-selling A Love More Tangled Than A Tholian Web. She was one of the mothers of Pava Ek'Noor sh'Aqabaa. She calls Pava her "little shevt'ak". (SA comic: "Parents' Day")
Ad blocker interference detected!
Wikia is a free-to-use site that makes money from advertising. We have a modified experience for viewers using ad blockers

Wikia is not accessible if you've made further modifications. Remove the custom ad blocker rule(s) and the page will load as expected.