"Unexpected Honor" is a Star Trek Online short story by Christine Thompson appearing in Star Trek Magazine #40. It was the first in an ongoing series of short stories, based in the Star Trek Online universe, published in Star Trek Magazine, every issue, following.
Va'Kel Shon visits Data to discuss the command of the USS Enterprise, which he has been offered. Data attempts to convince Shon that Shon's tactical mindset is needed now.
Memorable quotes
Edit
"I don't look at the galaxy like you do. You see experiences - I see potential threats. I'm a tactical officer, not an explorer."
References
Edit
Characters
Edit
B4 • Data • Va'Kel Shon

Referenced only 

Bruce Maddox • Deanna Troi • Montgomery Scott (implied)
Starships and vehicles
Edit
Referenced only 
Locations
Edit
Referenced only 
Races and cultures
Edit
Referenced only 
States and organizations
Edit
Referenced only 
Other references
Edit
Appendices
Edit
Connections
Edit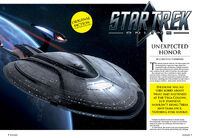 External links
Edit
Download:
Ad blocker interference detected!
Wikia is a free-to-use site that makes money from advertising. We have a modified experience for viewers using ad blockers

Wikia is not accessible if you've made further modifications. Remove the custom ad blocker rule(s) and the page will load as expected.