For the mirror universe counterpart, see Unimatrix One (mirror).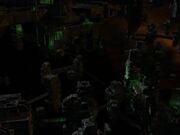 Unimatrix One also known as the Central Unicomplex is a Borg Unicomplex that serves as the heart of the Borg Collective. This Borg complex is the home of the Borg Queen and thousands of Borg starships and billions of Borg drones.
Seven of Nine is taken here to meet the Queen. A rescue team from the USS Voyager later infiltrated the Unicomplex and retrieved Seven. (VOY episode: "Dark Frontier")
In 2377 the Unicomplex is severely damaged (possibly destroyed) when a version of Kathryn Janeway from the future sacrifices herself to infect the Borg Queen with a virus that destroys her. (VOY episode: "Endgame")
Ad blocker interference detected!
Wikia is a free-to-use site that makes money from advertising. We have a modified experience for viewers using ad blockers

Wikia is not accessible if you've made further modifications. Remove the custom ad blocker rule(s) and the page will load as expected.