This is a list of examples of Federation Einstein-class starships that do not have names immediately specified in this database.
See also unnamed Federation starships.
By registry
Edit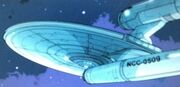 In the Kelvin timeline, the NCC-0509 suffered damage to its dilithium scrubbers in the year 2250. The civilian engineer Montgomery Scott repaired the damage, impressing the ship's captain. (TOS comic: "IDW Star Trek, Issue 19")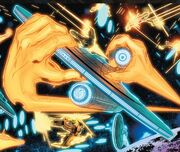 During the Spectrum War, which lasted from stardate 2262.47 to 2262.247 (2262, the Orange Lantern Larfleeze used his constructs to grab an Einstein-class vessel participating in the battle of Starbase 12 in the Gamma 400 system. (TOS comic: "The Spectrum War, Issue 5")
Appendices
Edit
Connections
Edit
Ad blocker interference detected!
Wikia is a free-to-use site that makes money from advertising. We have a modified experience for viewers using ad blockers

Wikia is not accessible if you've made further modifications. Remove the custom ad blocker rule(s) and the page will load as expected.