This article contains a list of unnamed Miranda-class starships.
By registry
Edit
San Francisco Fleet Yards
Edit
In the 2270s, a Miranda-class ship was in drydock at the San Francisco Fleet Yards at the same time as the USS Enterprise. (Ships of the Line 2014)
Two Mirandas in SpacedockEdit
In 2354, two unnamed Miranda-class starships were docked in the Earth Spacedock when the USS Benjamin Franklin returned from its training mission. (TNG novel: The Haunted Starship)
Federation delegation
Edit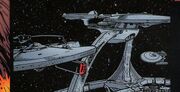 An Miranda-class vessel arrived carrying part of a delegation of Federation diplomats and dignitaries gathered on Deep Space 9 in 2371 to greet Grand Gul Ekhart for a peace summit. The invitation was a ruse, however, resulting from complicity from Ekhart and a terrorist, Gul Shyak, who planned to destroy Bajor and all vistors to the Bajor system with an asteroid containing a protomatter bomb and metagenic weapon seed.
The assembled starships were able apprehend Shyak and Ekhart after a pirate vessel (unnamed pirate transport) piloted by Miles O'Brien and Odo recovered Kira Nerys and Skrain Dukat from the asteroid and detonated the weapon in the Seyom system. (DS9 comic: "Turn of the Tide")
By location
Edit
Trexelian Expanse
Edit
Around stardate 73XX.6, an unidentified Miranda-class starship was one of the ghost ships Counselor Neelix could summon during battles and war game engagements. (ST video game: Trexels missions: "Skirmish", "Events")
Connections
Edit
Ad blocker interference detected!
Wikia is a free-to-use site that makes money from advertising. We have a modified experience for viewers using ad blockers

Wikia is not accessible if you've made further modifications. Remove the custom ad blocker rule(s) and the page will load as expected.