Ad blocker interference detected!
Wikia is a free-to-use site that makes money from advertising. We have a modified experience for viewers using ad blockers

Wikia is not accessible if you've made further modifications. Remove the custom ad blocker rule(s) and the page will load as expected.
This page lists of unnamed USS Cairo personnel.
For a list of named personnel, see USS Cairo (NCC-42136).
Command division
Edit
First officer
Edit
This unnamed first officer was ambushed and killed by Cardassians in 2354 while performing a survey of an uncharted planet along the Cardassian border. (TNG video game: Starship Creator)
Human lieutenant
Edit
This Human male lieutenant served as a flight controller on the Cairo in 2368. He made a speciesist joke at Ensign Sim's expense, before being reproached by Commander Leslie Wong. (ST comic: "Captain's Log: Jellico")
Human flight controller
Edit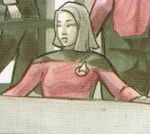 This Human female served as a flight controller on the Cairo in 2368. She relieved a Human lieutenant. (ST comic: "Captain's Log: Jellico")
Operations division
Edit
Andorian engineer
Edit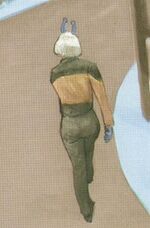 This Andorian male served at the engineering station on the Cairo's bridge in 2368. He also walked by the transporter room just after Commander Leslie Wong reported aboard. He was relieved by a human engineer. (ST comic: "Captain's Log: Jellico")
Balding engineer
Edit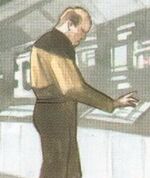 This Human male engineer served aboard the Cairo in 2368. He was working in main engineering when Commander Leslie Wong passed through it while familiarizing herself with the ship. (ST comic: "Captain's Log: Jellico")
Batwing tactical officer
Edit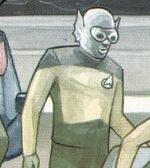 This batwing male served a tactical officer aboard the Cairo in 2368. He relieved a Human ensign. (ST comic: "Captain's Log: Jellico")
Bolian male
Edit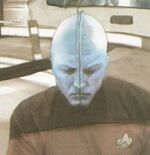 This Bolian male served on the Cairo's bridge in 2368. (ST comic: "Captain's Log: Jellico")
Female engineer
Edit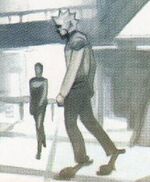 This female engineer served aboard the Cairo in 2368. She was working in main engineering when Commander Leslie Wong passed through it while familiarizing herself with the ship. (ST comic: "Captain's Log: Jellico")
Focused engineer
Edit
This male human engineer served aboard the Cairo in 2368. He was working in main engineering when Commander Leslie Wong passed through it while familiarizing herself with the ship. (ST comic: "Captain's Log: Jellico")
Hoofed engineer
Edit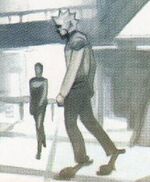 This hoofed male engineer served aboard the Cairo in 2368. He was working in main engineering when Commander Leslie Wong passed through it while familiarizing herself with the ship. (ST comic: "Captain's Log: Jellico")
Human ensign
Edit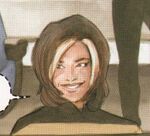 This Human female ensign served as a tactical officer aboard the Cairo in 2368. She made a speciesist joke at Ensign Sim's expense, before being reproached by Commander Leslie Wong. (ST comic: "Captain's Log: Jellico")
Male engineer
Edit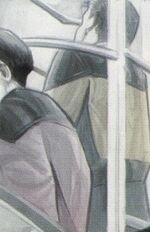 This Human male engineer served aboard the Cairo in 2368. He was among the engineering crew who worked with Lieutenant Honigsberg and Commander Leslie Wong to adapt the ship's short range sensor array for long-range scanning. (ST comic: "Captain's Log: Jellico")
Off-duty engineer
Edit
This Human male served at the engineering station on the Cairo's bridge in 2368. He relieved an Andorian engineer. (ST comic: "Captain's Log: Jellico")