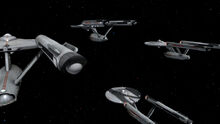 This is your user page. Please edit this page to tell the community about yourself!
My favorite pages
Edit
Add links to your favorite pages on the wiki here!
TOS TAS,ENT,DS9,VOY, NG, JJ's I am also a big fan of the following non Star Trek series Star WARS, Space 1999 ,Battlestar Galactica , both versions, Doctor Who,Starlost, Thunderbirds,UFO. Babylon 5.
Being a old school aka original series fan , I tend to favor the 22nd and 23rd century over the 24th century I have a large Collection of Star Trek memorabilia dating back to 1973.
The Galactic Whirilpool, Planet of Judgement,Spock Must Die, The Starless World,, World Without End, Trek to A Mad World, Perrys Planet, Deaths Angel, Devil Planet and Mudds Angels along with the Alan Dean Foster log series, Jame blishs TV tie in series and the Original Technical manual and the Spaceflight chronology form the basis of my Star Trek book collection