The Vas Hatham-class (translated from Romulan languages as Bird-of-Prey-class, and also referred to as the V8-class or T'liss-class) was a type of Romulan bird-of-prey starship in the 23rd century. (FASA RPG module: Romulan Ship Recognition Manual; ST video game: Star Trek Online)
The Bird-of-Prey was brought into service in the 2260s as the Romulan Star Empire began its plans to re-establish itself as a major power after more than a century hiding behind its borders. After the first tests of two of the ships were successful, a single Bird-of-Prey was sent over the Neutral Zone to test the Federation's strengths. (ST reference: Ships of the Line)
The lone Bird-of-Prey successfully struck a number of Federation outposts before it was pursued by the USS Enterprise, and eventually destroyed. (TOS episode: "Balance of Terror")
The Bird-of Prey served throughout the rest of the 23rd century and final ships of the class were finally removed from service in the early 24th century. (ST reference: Starship Spotter)
The Romulans of the Mirror Universe also utilized vessels of this class, as Spock used the tantalus Field to wipe out its crew and take the vessel to Starbase 10. (TOS novel: The Sorrows of Empire)
By 2409, the Vas Hatham-class had been redesignated as T'liss-class light warbird. By that year, this type of bird-of-prey was considered an old design. Nevertheless it was still in use by the fledgling Romulan Republic as a light warship. (STO mission: "Flight from Virinat")
The Bird-of-Prey is warp-capable and fitted with two innovative systems; a plasma torpedo weapon capable of massive destruction, and a revolutionary new cloaking device. However the power demands of all these systems are limiting factors on the ship's abilities as the ship's power core can only produce enough power to use one of the three at a time. (TOS episode: "Balance of Terror")
This class of ship was later modified to carry conventional weapons such as disruptors and phasers. (TOS novel: My Enemy, My Ally)
Known vessels
Edit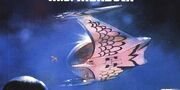 Appendices
Edit
These birds-of-prey were the only class of Romulan bird-of-prey that had the specific class name that translates as "bird-of-prey", even though these were not the first birds-of-prey of previous centuries.
If the Romulans name starship classes after the prototype ship, it is possible that the ChR Bird-of-Prey of Commander Julina in TOS novel: Black Fire is a candidate to have been the first ship of this line.
External link
Edit
Ad blocker interference detected!
Wikia is a free-to-use site that makes money from advertising. We have a modified experience for viewers using ad blockers

Wikia is not accessible if you've made further modifications. Remove the custom ad blocker rule(s) and the page will load as expected.