For the mirror universe counterpart, see Michael DeSalle (mirror).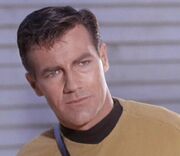 Vincent M. DeSalle (also known as Anton "Tony" DeSalle) was a male Human in the 23rd century, and a career Starfleet officer. DeSalle served as assistant chief engineer and navigator aboard the Federation starship USS Enterprise during the mid-2260s. DeSalle eventually rose to the title of captain in his own right, as the commanding officer of the USS Republic. (TOS episodes: "The Squire of Gothos", "This Side of Paradise", "Catspaw"; TOS - New Earth novel: Wagon Train to the Stars)
DeSalle's surname indicates his family's origination in a French language region of Earth. (TOS episode & Star Trek 11 novelization: The Squire of Gothos)
DeSalle assumed command of the Enterprise when both Captain James T. Kirk and Commander Spock disappeared on planet M-155. (TOS novel: Strangers from the Sky)
When the Enterprise explored Quadrant 904 in the year 2267, Lieutenant DeSalle was serving as navigator when he witnessed Lieutenant Hikaru Sulu and Captain James T. Kirk vanish from the bridge shortly after the ship first spotted the planet Gothos. Spock chose DeSalle to lead a landing party in a search for the missing crew. On Gothos, they met Trelane, who presumed DeSalle to be a Frenchman, and addressed him in that language. (TOS episode & Star Trek 11 novelization: The Squire of Gothos)
DeSalle later transferred to the USS Columbia. (TOS novel: The Weight of Worlds)
In 2272, Commander Vincent DeSalle was appointed Captain of Timeship One, a joint Starfleet/DTI prototype timeship. The timeship was decommissioned later that year after a duplicate Timeship One returned from the future, with its dying crew explaining they went too far and succumbed to Hawking radiation. (DTI novel: Forgotten History)
The Star Trek Concordance, the FASA RPG module: Cadet's Orientation Sourcebook and TOS novel: A Choice of Catastrophes give "Vincent" as DeSalle's first name. Other sources have used the names "Michael" and "Anton".
Appendices
Edit
Connections
Edit
External links
Edit
Ad blocker interference detected!
Wikia is a free-to-use site that makes money from advertising. We have a modified experience for viewers using ad blockers

Wikia is not accessible if you've made further modifications. Remove the custom ad blocker rule(s) and the page will load as expected.