The Virtili were an non-humanoid civilization. They were seen as criminals by the Mygdalians. They were also immune to the Vulcan nerve pinch due to their lack of a discernible shoulder.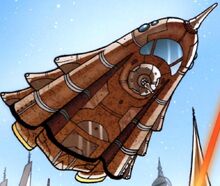 In
2270
, the Virtili attacked
Mygalus III
when they fell behind in their shipments. (
TOS
-
Burden of Knowledge
comic
: "
Uncertain Prescriptions
")