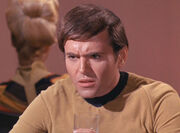 In the episode, Bashir ordered his drink "stirred, not shaken," which is a tribute to James Bond, who frequently orders a vodka martini "shaken, not stirred." It seems likely that the drink Bashir made for himself in "Our Man Bashir", an episode which borrowed many Bond themes, was also a vodka martini.
External links
Edit
Ad blocker interference detected!
Wikia is a free-to-use site that makes money from advertising. We have a modified experience for viewers using ad blockers

Wikia is not accessible if you've made further modifications. Remove the custom ad blocker rule(s) and the page will load as expected.