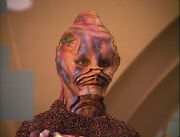 The Vorgon were a humanoid species native to somewhere in the Milky Way Galaxy. They had orange skin with purple markings, bald heads, and their lower faces and necks were covered in multiple breathing slits. They also had mitten-like hands.
By the 27th century, the Vorgons had developed the ability to time travel. Two criminals, Ajur and Boratus, used this technology in an attempt to steal the Tox Uthat, but were foiled. (TNG episode: "Captain's Holiday", DTI novel: Watching the Clock)
External link
Edit
Ad blocker interference detected!
Wikia is a free-to-use site that makes money from advertising. We have a modified experience for viewers using ad blockers

Wikia is not accessible if you've made further modifications. Remove the custom ad blocker rule(s) and the page will load as expected.