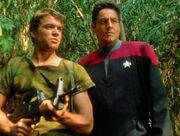 The Vori rifle was an assault rifle, the primary hand-held projectile weapon in use by the Vori civilization on the Kradin-Vori planet during fighting with the Kradin in the 2370s decade. (VOY episode: "Nemesis")
The Vori rifles were MZ-14 assault rifles dressed to look like alien weapons. In reality, the MZ-14 is a version of the Ruger Mini-14 which has been modified for close-quarters use.
Connections
Edit
Ad blocker interference detected!
Wikia is a free-to-use site that makes money from advertising. We have a modified experience for viewers using ad blockers

Wikia is not accessible if you've made further modifications. Remove the custom ad blocker rule(s) and the page will load as expected.