Description
Edit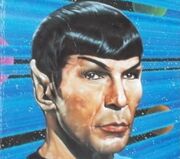 A universe where a series of freak ion storms has changed the boundaries of space… where Arachne IV, inhabited by a strange race, may be lost forever to the Federation where Spock is sent on a death-defying assignment into a war of ant-types along with a brilliant, beautiful, bigoted scientist who hates Vulcans!
This article or section is incomplete
This article is marked as lacking essential detail, and needs attention. Information regarding expansion requirements may be found on the article's talk page. Feel free to edit this page to assist with this expansion.
References
Edit
Characters
Edit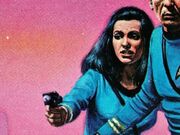 Donald Ackroyd • Christine Chapel • Pavel Chekov • Angela Dickinson • Fitzgerald • Fuzzybutt • Jeffreys • James T. Kirk • John Kyle • Licinius • Theodore Lowrey • Martin • Leonard McCoy • Angela Mendoza • Hans Mueller • Ruth Rigel • Montgomery Scott • Shigeda • Spock • David Stone • Hikaru Sulu • Maximinus Thrax • Katalya Tremain • Nyota Uhura • Jeff Williams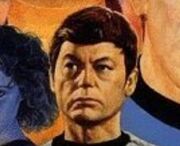 Referenced only 

Austin • Barrs • Carlyle • Alice Carlyle • Charles Darwin • Sigmund Freud • Gaston • St. George • God • Gulied • Harry • Michael Lowrey • Joanna McCoy • Meris • Michelangelo • Santa Claus • Sarek • Selik • Tooth Fairy • Jocelyn Treadway • Jeremy Tremain • Servius Tullis
Starships and vehicles
Edit
Locations
Edit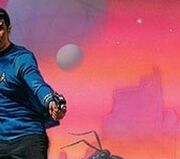 Races and cultures
Edit
States and organizations
Edit
Other references
Edit
anphedrin • ant • Antares Theater • bear • bee • book-tape • bra • brandy • bubble bath • castle • chess • clam • clay • couch • cow • cream • dexi-penithal • diplopoda • DNA • dog • dunsel • dwarf orange tree • Egyptian • fairy • flea • fox • frogmouth • ghost • gothic • guitar • Hamlet • handkerchief • Henry V • Italian • jacket • kangaroo • kukulu nut • lava worm • Law of the Jungle • leaf-palace builder • Medal of Honor • mongcat • onion • orange • otter • penguin • pre-Columbian • Prime Directive • rose • sabercat • Saurian brandy • Sigmund booth • Sigmund program • snake • spider • sugar • tarantula • tea • term marriage • tribble • tunic • water • wolf
Appendices
Edit
Connections
Edit
External link
Edit