For other uses, see War Games.
References
Edit
Characters
Edit
Costello • Aman Evek • Felat • Kelloway • Alynna Nechayev

Referenced only 
Locations
Edit
Referenced only 
Starships and vehicles
Edit
Referenced only 
Races and cultures
Edit
Bolian • Cardassian • Human • Vulcan
States and organizations
Edit
Other references
Edit
Appendices
Edit
Background information
Edit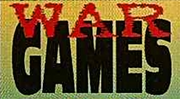 The story has been listed as both "Wargames" and "War Games" when being referenced in both Malibu publicity material and story reviews, as the words were split across two lines, in two different fonts.
"War Games" serves as a prequel to The Maquis: Soldier of Peace, as well as "Caretaker", the pilot episode of Star Trek: Voyager.
Connections
Edit
Ad blocker interference detected!
Wikia is a free-to-use site that makes money from advertising. We have a modified experience for viewers using ad blockers

Wikia is not accessible if you've made further modifications. Remove the custom ad blocker rule(s) and the page will load as expected.