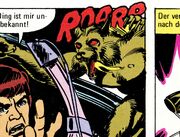 A werewolf is a creature in Human mythology. According to legend, a person would turn into a wolf-like creature whenever the moon was full.
In 2267, James T. Kirk thought some of the Furies aboard the Rath resembled werewolves. (TOS novel: First Strike)
In the summer of 2365, Jake Sisko applied makeup to make himself look like a werewolf. (DS9 - Worlds of Deep Space Nine novella: Bajor: Fragments and Omens)
In 2369, Samuel Clemens thought Worf was a werewolf. (TNG episode: "Time's Arrow, Part II")
The werewolf legend was the basis of a number of movies created in the 20th century. Lieutenant T'Ryssa Chen was familiar with these films, and referenced The Wolf Man in a dream she had about a Borg attack in 2380. (TNG novel: Greater Than the Sum)
Connections
Edit
Ad blocker interference detected!
Wikia is a free-to-use site that makes money from advertising. We have a modified experience for viewers using ad blockers

Wikia is not accessible if you've made further modifications. Remove the custom ad blocker rule(s) and the page will load as expected.