Ad blocker interference detected!
Wikia is a free-to-use site that makes money from advertising. We have a modified experience for viewers using ad blockers

Wikia is not accessible if you've made further modifications. Remove the custom ad blocker rule(s) and the page will load as expected.
For other uses, see Wolf.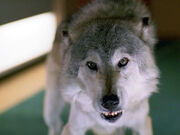 The wolf (Canis Lupis) is a type of carnivorous canine related to the dog, and native to the planet Earth, although similar creatures can be found spread on a number of alien worlds.
History and specifics
Edit
According to old Earth legends, children who had became lost in the wilderness and survived were typically raised by a pack of wolves. In 2266, Spock had claimed to study the old legends and responded to Leonard McCoy's reference to children surviving in the wilderness would "require a wolf to look after the infant". (TOS novelization: Charlie X)
Appendices
Edit
References
Edit
External links
Edit