For other uses, see Yamaguchi.
The Yamaguchi class was a Federation starship class in Starfleet service since the 24th century. The Yamaguchi was a sub-class of the Ambassador-class heavy cruiser. In the 25th century, a new prototype was launched and this subclass became officially known as the Yamaguchi-class fleet support cruiser retrofit. (ST reference: Star Trek Encyclopedia, STO mission: "Temporal Ambassador")
History and specifications
Edit
The Yamaguchi's hull sported several changes and improvements over the regular Ambassador-class starship. The bussard collectors received caps on top and below. The nacelle pylons were shortened. The saucer section was planted further back on the neck. Some models included an additional shuttlebay below the aft shuttlebay. (ST reference: Star Trek Encyclopedia, STO missions: "Temporal Ambassador", "Welcome to Earth Spacedock")
Ambassador- and Yamaguchi-class starships featured superior maneuverability compared to other heavy cruisers in the 25th century. (STO mission: "Temporal Ambassador")
Class variations
Edit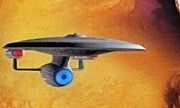 Subclasses
Edit
In the early 25th century, the Ambassador-class starship was available in three variants: support cruiser, retrofit and fleet retrofit. Differences among the subclasses were equipment, hull durability and power levels. Basic Ambassadors were cruisers commanded by officers with the rank of commander or higher. Retrofits were available to Starfleet officers with the rank of admiral. The fleet variant required support by a Federation fleet to be obtained. Only the fleet retrofit included the Yamaguchi subclass. The components saucer, hull, neck, pylons and nacelles were interchangeable between Ambassador- and Yamaguchi-class starships. (ST video game: Star Trek Online)
By 2409, a total of seven basic livery designs was available to choose from, which could be modified further. These options were known as: Types 1-5, and Fleet and Veteran. (STO mission: "Temporal Ambassador")
In addition, the installation of shields from specific factions modified the hull appearance, including shields from the Reman Resistance, the Breen Confederacy and the Dominion. (STO missions: "Coliseum", "Cold Storage", "Boldly They Rode")
Known vessels
Edit
Appendices
Edit
Connections
Edit
External links
Edit
References
Edit

This article is a Star Trek Online related article, and it may be necessary to provide additional citation before individual users can add STO data without discussion or removal of the information. You can help our database by discussing this policy.