From solicitations: On Viden 9, the U.S.S. Enterprise encounters a planet similar to 21st century Earth, where the population has a never-ending appetite for entertainment, and people will do anything for fame. When Captain Kirk and his crew become media sensations, the competing networks that control Viden's government won't let them leave, unless Kirk agrees to a deadly "finale."
This article or section is incomplete
This article is marked as lacking essential detail, and needs attention. Information regarding expansion requirements may be found on the article's talk page. Feel free to edit this page to assist with this expansion.
References
Edit
Characters
Edit
Brandon • Cam • Christine Chapel • Pavel Chekov • James T. Kirk • Kren • John Kyle • Liza • Leonard McCoy • Montgomery Scott • Spock • Hikaru Sulu • Ted Tinker • Scott Tipton • Nyota Uhura
Starships and vehicles
Edit
Referenced only 
Locations
Edit
Races and cultures
Edit
States and organisations
Edit
battery • camera • contract • Eden 3 • fencing • frab bean • i-NEWS • magician • News Now • remote • satellite • sitcom • Starfleet Academy • The Dr. Marv Show • television • Welcome to the Family • x-ray vision • Vulcan lute
Appendices
Edit
Like other issues in the miniseries this issues draws upon the traditions of TOS episodes, in this instance making a commentary on the current fascination with reality TV. It also emulates The Original Series by featuring an entirely Human looking alien race, whose technology and architecture is distinctly 20th century Earth looking.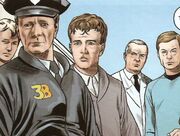 The top panel of page three includes a cameo appearance by Charles Evans from the TOS episode: "Charlie X".
This is the first Star Trek comic to credit IDW's new editor Andrew Steven Harris, who took over from Dan Taylor when he left IDW.
The ten pages of editorial content in this issue include a single page advert for the next issue of the Year Four miniseries.
This issue was available in three covers; two standard covers, one each by Steve Conley and Joe Corroney; and a third of more limited retail incentive cover, a sketch version of the Corroney cover.
External link
Edit