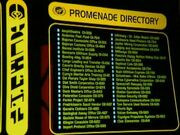 Yoyodyne Propulsion Systems was an institution known in the Federation in the 24th century, an originator of propulsion technology.
Constellation-class Federation starship USS Hathaway was built at Luna by Yoyodyne. (TNG episode: "Peak Performance")
Miranda-class starship USS Brattain was built at 40 Eridani by Yoyodyne on stardate 22519.5. (TNG episode: "Night Terrors")
Nebula-class starship USS Phoenix was built at 40 Eridani by Yoyodyne on stardate 40250.5. (TNG episode: "The Wounded")
The Nebula-class USS Sutherland was built in San Francisco by Yoyodyne on stardate 44820.5. (TNG episode: "Redemption")
Yoyodyne Propulsion Systems had an office located on the Promenade of Starbase Deep Space 9. On Deep Space 9 this is located at space station central core room location 03-853. (DS9 reference: Star Trek: Deep Space Nine Companion)
Appendices
Edit
Connections
Edit
External link
Edit
Ad blocker interference detected!
Wikia is a free-to-use site that makes money from advertising. We have a modified experience for viewers using ad blockers

Wikia is not accessible if you've made further modifications. Remove the custom ad blocker rule(s) and the page will load as expected.